The SRS Junior Forum was held in Edinburgh on Thursday 01 November, with the AGM the day after. This was a free event for members (see below),
Follow #scotrad18 for the latest updates.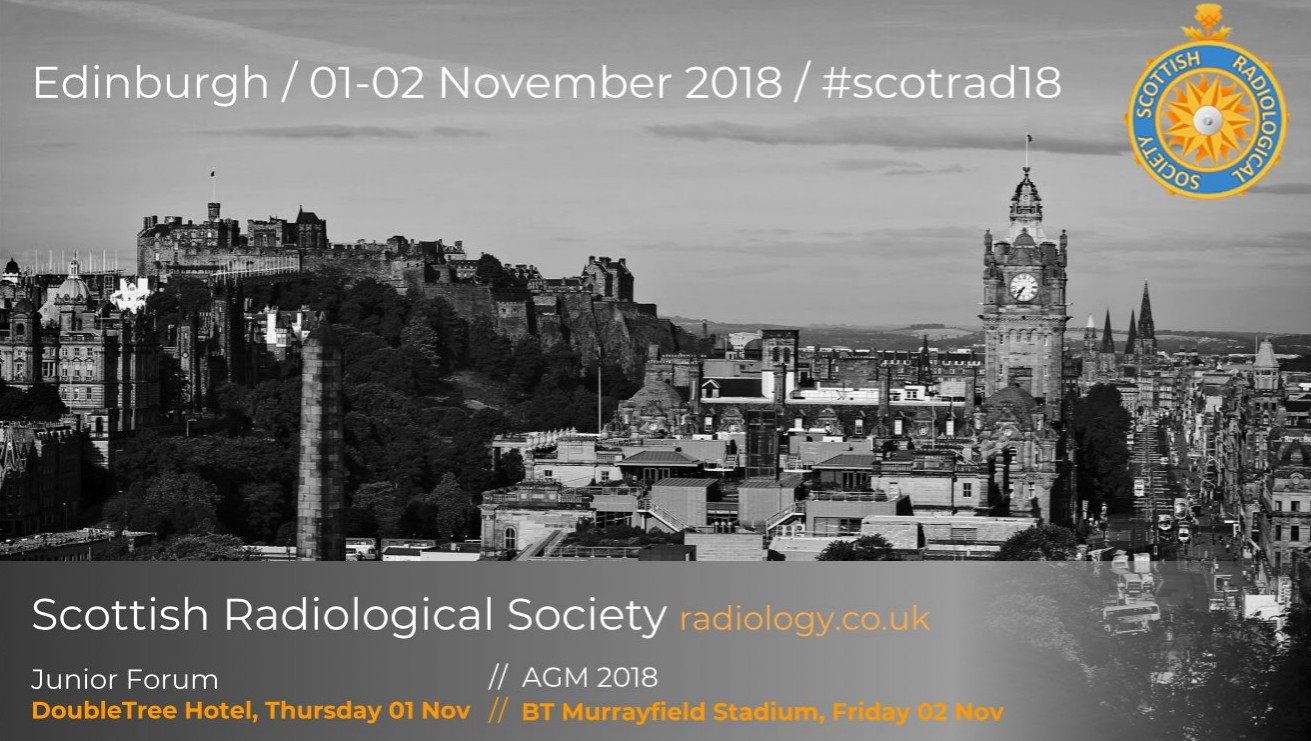 Programme
Programme:
1300 – 1330: Registration and coffee
1330 – 1415: Exploring radiology fellowships – Dr Jonathan Weir-McCall and Dr Andrew Walker will come to speak on their experiences in Vancouver, Cambridge, and Auckland with advice on how to plan for and have a successful fellowship.
1415 – 1500: What sort of workforce? – Dr Julian Keanie (WGH) and Dr Jonathan Serhan (VHK / Ninewells) will join us for a debate on the roles of specialists and generalists in radiology, and what working in Scotland will look like in the near future.
1500 – 1530: Refreshments
1530 – 1615: What future training might look like (Making the most of technology) – Dr Jeremy Jones (RHSC) will speak on the latest endeavours in radiology education in Scotland and worldwide.
1615 – 1700: CT: all creatures great and small – Dr Tobias Schwarz from the Royal Dick Vet School, University of Edinburgh, will bring a different approach to imaging with his experiences working as a veterinary radiologist
Location
The Junior Forum was at a separate venue from the AGM this year, at the DoubleTree by Hilton City Centre Hotel, in the Orchardfield Suite.
This is a five minute walk from Princes Street, in the shadow of Edinburgh Castle. Discounted parking is available at the NCP Castle Terrace car park, a few minutes walk away.
The AGM was held the next day (Friday 02 Nov) at BT Murrayfield Stadium.
Organisers
Dr Derek Smith, SRS trainee representative, and Dr Alfred Tan (previous trainee rep) have developed this year's meeting.
Sign-up
The Junior Forum is a free event for members in training. Sign up is required for both days, and for the conference dinner if you are interested in attending. For trainee members, the cost for the AGM is only £25.