Autumn Meeting / AGM 2018
Many thanks to all who attended this year's Scottish Radiological Society Autumn Meeting and AGM at BT Murrayfield Stadium, Edinburgh.
Highlights from the meeting are available by searching #scotrad18 on Facebook and Twitter.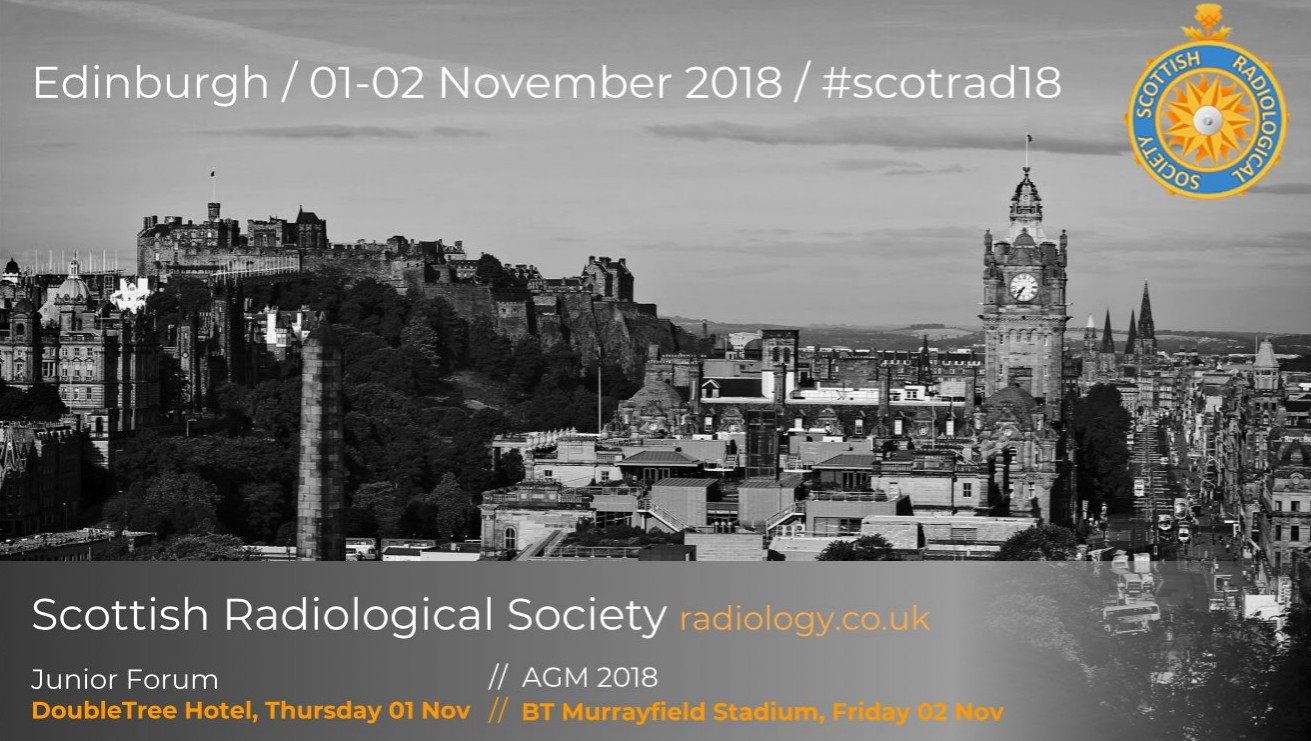 Programme
We were delighted to have Dr Sujal Desai delivering this year's McGibbon Lecture, our annual keynote presentation. Dr Desai is a chest radiologist from Royal Brompton Hospital, London and gave a detailed and useful talk on how to approach and describe interstitial lung diseases.
Consultants and trainees from SE Scotland also presented with updates on MSK, spinal, and cardiac imaging. The past and future of radiology in Scotland were also discussed; with efforts to salvage old films from the Edinburgh hospitals, and the experiences of training and trainers and what the future setup for registrars may look like in Scotland.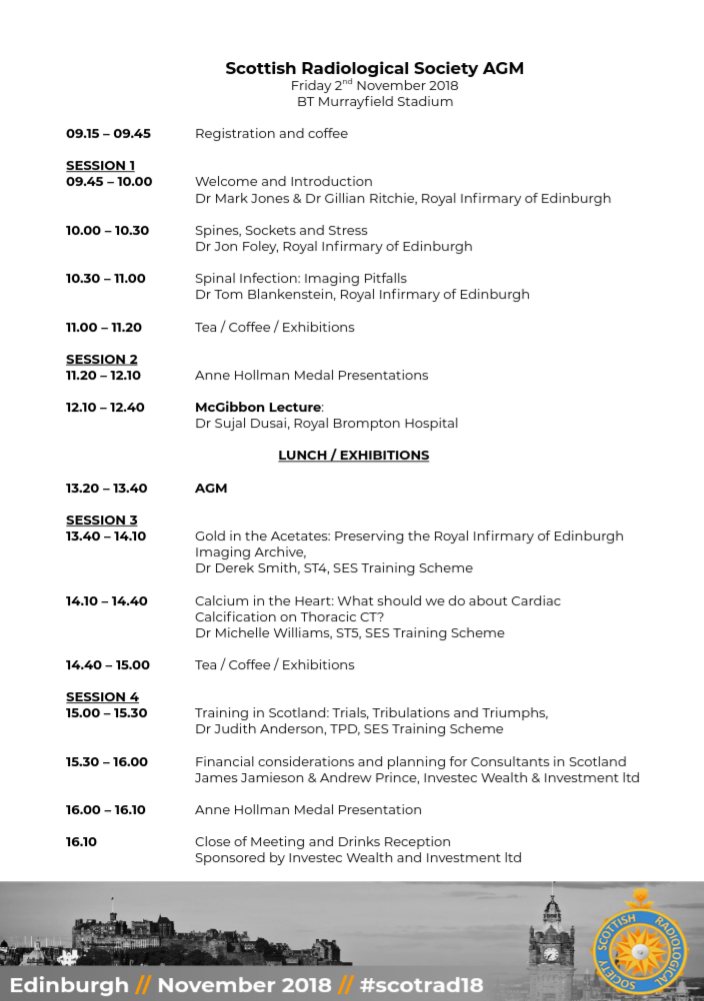 Our final session was from Investec Wealth and Investment Ltd with financial advice for radiologists.
Attendance at this meeting was equivalent to 5 RCR self-certified CPD points.
Anne Hollman Medal
We had several superb research presentations from trainees across Scotland on a variety of topics including cognitive imaging and ultrasound correlates, paediatric neck imaging, adult intussusception, and many others.
Congratulations to Dr Rishi Ramaesh from Edinburgh with his winning presentation on the developing role of F18-Choline PET in detection of parathyroid adenoma.
More details available here.
Junior Forum
A very well attended Junior Forum was held the day before at DoubleTree Hilton City Centre Hotel.
Over 60 trainees from across Scotland heard talks from Dr Andrew Walker and Dr Jonathan Weir-McCall on their recent fellowships, Dr Jonathan Serhan and Dr Julian Keanie on the various opportunities available in job planning, Dr Jeremy Jones on using Radiopaedia in training and a special talk from Dr Tobias Schwarz on veterinary imaging.
Location
Bringing Scottish Radiology to the home of Scottish Rugby
BT Murrayfield Stadium is in the west of Edinburgh. There is free parking on site, with quick bus and tram links from the city centre. The President's Suite is on the west side of the stadium, with easy access.
Social Events
Immediately following the Autumn Meeting, on the Friday afternoon, we had a drinks reception for our attendees and speakers, in BT Murrayfield sponsored by Investec.
The Society will also hosted a dinner the night before, on Thursday 01 November at The Apartment in Bruntsfield. It was a popular event with over 40 members in attendance.
Organisers
Dr Gillian Ritchie and Dr Mark Jones, both consultant radiologists at the Royal Infirmary of Edinburgh, organised this year's successful meeting.
Sponsorship
To help us continue to provide competitive rates for our members, we are grateful for our meeting sponsors. This year we have received industry support from Bracco, GE, Guerbet, Mana-Tech, and Merit Medical as well as from Investec.