McGibbon Lecture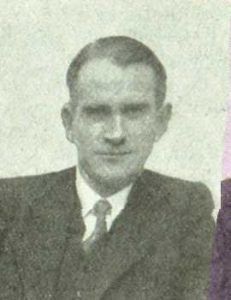 An annual lecture in memory of Dr John McGibbon, a greatly admired Edinburgh radiologist and a pioneer of cardiac radiology, was endowed in the early 1960s. A grant from the European Association of Radiology following a successful meeting in Edinburgh in 1974 made it possible to re-endow the lecture in 1974 as a continuing academic memorial.
Read about his life here.
Previous Lectures
2020: "MRI: past, present and future" Prof Fiona Gilbert
University of Cambridge
2019: "Personalising Realistic Medicine" Dr Helen Mackie
National Clinical Advisor, Chief Medical Office Directorate, Scottish Government
2018: "Diffuse interstitial lung diseases – conundrums for the radiologist" Prof Sujal Desai
Professor of practice – thoracic imaging; Royal Brompton Hospital
2017: "Retroperitoneal tumours including sarcoma" Prof Patrick O'Dwyer
Professor of Gastrointestinal Surgery, University of Glasgow
---
Allan Reid Travelling Lecture
The SRS launched a new eponymous lecture in 2017, after the late Dr Allan Reid, consultant radiologist Glasgow Royal Infirmary. He was a long serving auditor for the society's financial records and loyal supporter of the Society. His love of travelling was renowned.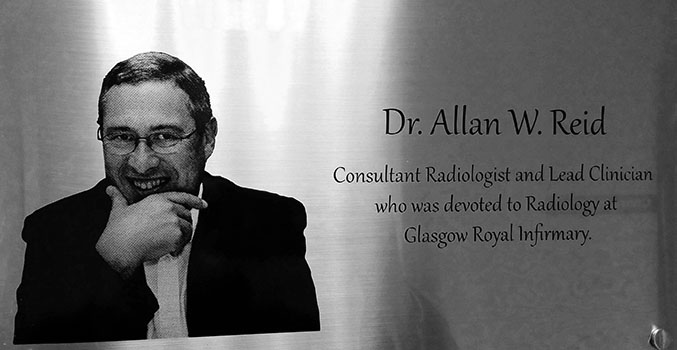 The inaugural lecture was delivered by Dr David Breen, Consultant Radiologist and Honorary Senior Lecturer in Radiology from the University Hospital of Southampton, at the SRS Spring meeting 2017 held in Stirling.
Previous Lectures
2019: "Interventional Radiology – Alive or Dead?" Prof Graeme Houston
Chair Clinical Imaging and Intervention, Director Clinical Imaging Research Facility, University of Dundee
2018: "Thrombectomy in Stroke" Dr Norman McConachie
Consultant Interventional Neuroradiologist, Nottingham University Hospitals NHS Trust
2017: "Interventional Oncology: Unrealised Potential" Dr David Breen
Abdominal and Interventional Radiologist, University of Southampton
Anne Hollman Medal
The Anne Hollman Medal is awarded annually for the best trainee research presentation, delivered at each Autumn meeting.
Further information is available at this page.
Copland Trainer of the Year
A new award from the 2020 meeting, supported by the family of Dr Bill Copland, a radiologist who trained in Aberdeen and worked in Edinburgh, and our former SRS president (1985-86). This annual award will be nominated by trainees in the regional centre hosting the Autumn meetings, and presented at these meetings.