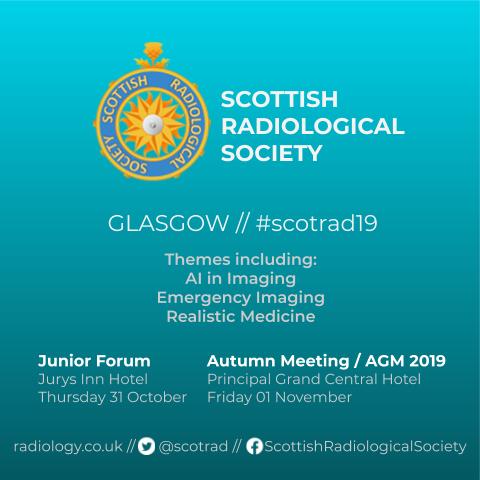 Meeting date
Thursday 31 October 2019
Location
Jurys Inn Glasgow, 80 Jamaica Street, Glasgow, G1 4QG
(between the foot of Buchanan Street and Central Station)
Programme
(Provisional programme – timings subject to change)
This year we are delighted to have Dr Helen Mackie, our McGibbon lecturer, coming to speak to trainees on Realistic Medicine, and how training and radiology factor into this vision of health in Scotland.
With support from the BMA we will be focusing on how to secure the consultant post you want, delivered by Dr Nik Arestis (FVRH).
Dr Dominic Fay is joining us from Bath to talk about his work on the RCR REAL panel (RCR login required), and the impact trainees have on this work.
Dr Conal Corbally from INS will give us an update on spinal imaging.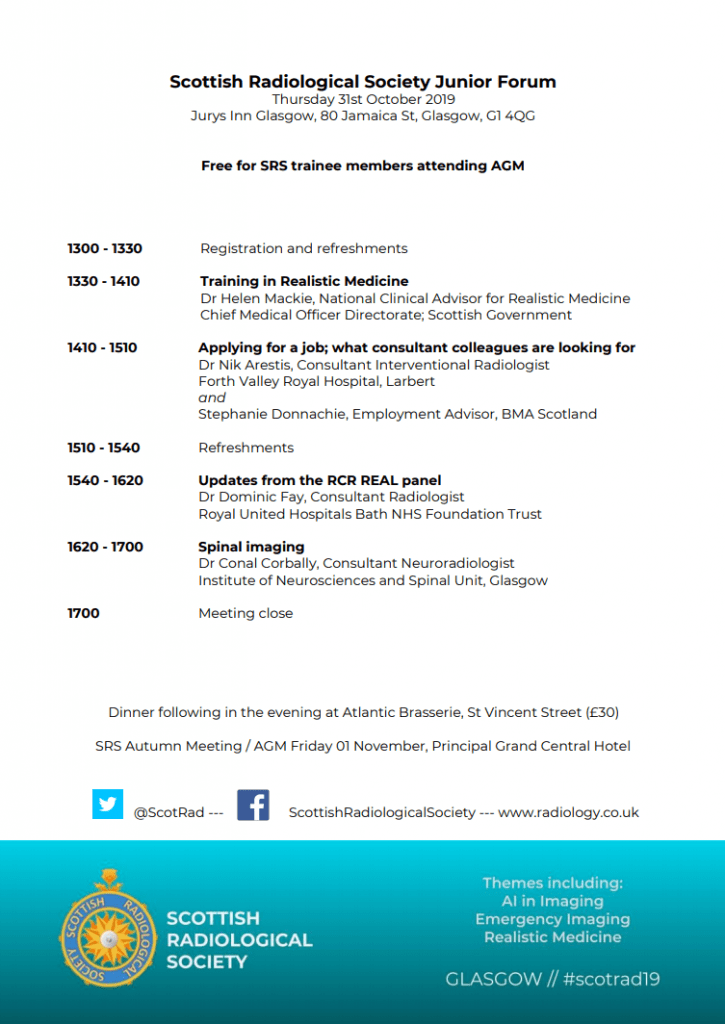 Registration and Rates
The Junior Forum is included in the registration costs for the entire Autumn event, including the next day's full meeting (Friday 01 November).
If you are a member of the SRS, you receive a discounted rate covering both days.
If you cannot make the Friday meeting, the same rate applies for the Thursday only (incorporating registration and refreshment costs).
Non-members, FYs and medical students are welcome to attend this day also.
Anne Hollman Award
Don't forget to submit your research for consideration of presentation at the main meeting.
Full details and submission rules available here – deadline October 04 2019.
Organiser
Derek Smith (Edinburgh) is the organiser for this year's Junior Forum.
If you have any questions about the event please email [email protected] or contact us via Facebook or Twitter, where we will also be posting updates.