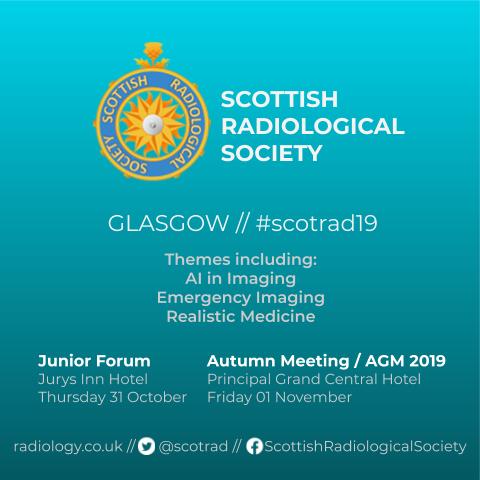 Meeting Date
Friday 01 November 2019
Junior Forum
For more details of the trainee focused event, follow the Junior Forum link.
Location
The meeting is hosted at the Principal Grand Central Hotel, Glasgow.
Programme
The event's provisional programme is available below or for download here.
This year's McGibbon Speaker will be Dr Helen Mackie, National Clinical Advisor on Realistic Medicine for the Scottish Government, speaking on the role of "realistic radiology".
Our other main theme is emergency imaging with talks on abdominal, neuro and paediatric emergencies.
SRS19 1/2

SRS19 2/2
Our trainee research competition for the Anne Hollman Medal will also be included in the day (details here), along with updates on diffusion imaging and AI in radiology.
Attendance at this meeting is equivalent to 5 self-declared Royal College of Radiologists' CPD points.
Registration
Meeting registration and sign up for the pre-meeting dinner (Atlantic Brasserie, St Vincent St — group menu £30) are both through this form below.
This is hosted on Google Forms which can be blocked on some NHS systems but is freely available on phone or personal computers. The same form is also available at this link.
Cost for the meeting is detailed by following the form below. Payments are via bank transfer:
Acct No: 30061365
Sort Code: 824404
Reference: SRS19 followed by your first initial and last name (e.g. SRS19GHounsfield)
Rates
SRS members' registration rates: consultant / retired member with CPD (£50), trainee (£25), retired no CPD (no charge).
Non members' registration rates: consultant (£125), trainee (£60), FY (£25), student (no charge) 
Dinner (Thursday) – additional £30 for three courses
Receipts will be returned (to the registered email address) following the close of the meeting. CPD certificates will follow upon completion of conference feedback.
Sponsors
As ever, we are grateful for the ongoing support from a number of our sponsors. This is a great opportunity for us in Scotland to see their developments and latest products.
Current sponsors include:
Agfa Healthcare // Bayer // Bracco // Canon // Carestream // Cook // GE // Guerbet // Manatech // Medica // Merit // Mermaid Medical // Siemens // Terumo
Organisers
Dr David Cowell is arranging the meeting. Dr Derek Smith is arranging the Junior Forum (held the afternoon before).
If you have any questions about the event please email [email protected] or contact us via Facebook or Twitter, where we will also be posting updates.