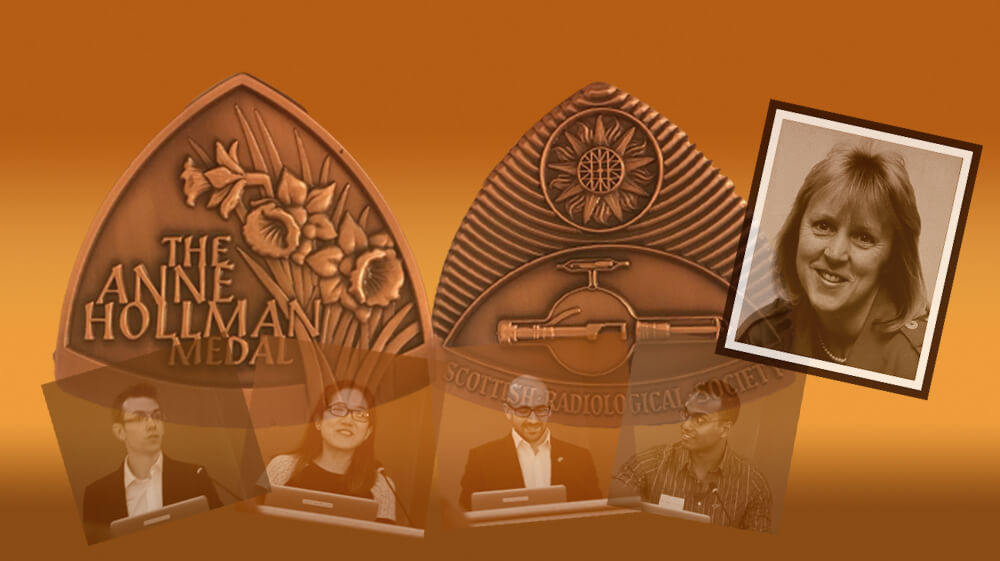 Anne Hollman Competition
Entry for this year's Anne Hollman Medal competition is now open.
Trainee presentations will be at the SRS Autumn Meeting on 01 Nov 2019 at the Principal Grand Central Hotel, Glasgow
Abstract submission
within 250 words
scientific or Audit based
all abstracts need to be structured under the following headings: Background, Methods, Results, Conclusion
deadline for submission: 04 October 2019 23:59hrs extended to 11 Oct 2019 23:59
results of abstract acceptance: mid-October
Anne Hollman Biography
Dr Anne Hollman graduated from Bristol University in 1979. She moved up to Glasgow with her husband, Professor Gordon Dutton, in 1982. She was a Consultant Paediatric Radiologist at the Royal Hospital for Sick Children, Glasgow, with a special interest in ultrasound, and was the SRS Secretary from 1995-98.
Dr Hollman published widely and won the Jacques Lefèbvre award at the European Society for Paediatric Radiology in 1992 (for the best research presentation from a young radiologist). She and was recognised nationally and internationally as a superb teacher was the Regional Postgraduate Education Advisor for the Royal College of Radiologists, ensuring the best for trainees. She also chaired the organising committee for the 31st BMUS annual meeting in 1999.
Despite her busy schedule, she found time to care for her adored family, friends and colleagues. Staff came to her with their troubles and she was also a committed member of her church. A school in Guatemala bears a permanent memorial in remembrance of the support and donations generated by Dr Hollman and her church.
Dr Hollman died in 1999 of small cell lung cancer aged 42. The Anne Hollman Medal was donated by Prof Dutton in her memory to encourage academic pursuits amongst young radiologists in Scotland. The prize is awarded annually at the SRS Autumn meeting for the best oral presentation by a radiology registrar.
Previous winners
2018 (Edinburgh):
The utility of F18-Choline PET/CT for the localisation of parathyroid adenomata in patients with Primary Hyperparathryoidism (PHP) with negative or equivocal conventional imaging.
Dr Rishi Ramaesh, Royal Infirmary of Edinburgh
Anne Hollman Medal Abstracts 2018
2017 (Aberdeen):
Development of novel computed tomography and genetic diagnostic criteria for lobar intracerebral haemorrhage associated with cerebral amyloid angiopathy
Mark Rodrigues, Royal Infirmary of Edinburgh.
Anne Hollman Medal Abstracts 2017
2016 (Dundee):
Teaching from every angle : Imaging education using online case based teaching and 3D technologies.
Derek AJ Smith, Jeremy Jones, University of Edinburgh
2015 (Glasgow):
2014 (Edinburgh):
Prevalence, types, follow up and final diagnosis of incidental findings on body magnetic resonance imaging: A systematic review
Lorna M Gibson, Laura Paul, Mark Jones, Cathie LM Sudlow
NHS Lothian/University of Edinburgh
2013 (Aberdeen):
Radiation dose reduction in computed tomography myocardial perfusion with diagnostic accuracy compared to fractional flow reserve and invasive coronary angiography
Williams MC, Dweck MR, Misadraee S, Golay SK, Weir N, van Beek E, Reid J, McKillop G, Uren N, Newby DE.
2012 (Dundee):
Can the ring sign improve the performance of shearwave elastography in benign/malignant differentiation of screen detected solid breast masses?
Szewczyk-Bieda M, Vinnicombe S, Whelehan P, Thomson K, Evans A.
Learning from mistakes: developing 'review' areas for abdominal imaging.
Weir-McCall J, Duncan G, Yeap PM, Budak MJ, Zealley I, Oliver TB.